Windscreen
PROTECTION SHIELD PACKAGE
Windscreen Protection Shield is a coating that gives car glass brand new properties. The surface tension changes so that rainwater and other liquids run off. Insects and dirt disappear when it rains, and you obtain a partially self-cleaning windscreen and a great saving of washer fluid, as well as less wear on the wipers.
The treatment lasts up to 30,000 km and the kit is enough for 8-10 windscreens.
Partially self-cleaning
Easily remove dirt, bugs, mud. Ice does not even stick in temp. down to -8°.
Virtually no need for wipers
At +80 km/h, drops slide off. Washer fluid consumption is reduced by est. 80%.
Improves visibility and safety
In all weather conditions. Less glare from oncoming traffic.
Alloy Wheel
PROTECTION SHIELD PACKAGE
The best protection you can apply to your alloy wheels. It is a revolutionary product giving the surface previously unseen properties. The coating particles create a thin, invisible, protective membrane on the surface, so that water, dirt, brake dust, etc., cannot stick. Clean with water only.
The treatment lasts approximately 1 year / 15000 km.
Easier cleaning of wheels
Harsh wheel cleaners and scrubbing will no longer be required and cleaning time is reduced.
Brake dust protection
A durable coat that provides excellent protection against brake dust & its corrosive effects.
Lasting wheel protection
For all alloy, steel, chrome-plated, polished & diamond cut wheels.
Bathroom
PROTECTION SHIELD PACKAGE
This product is specifically designed for bathrooms. After treatment the surface will repel water and oily liquids. Additionally lime scale and soap will not "take root". The daily cleaning is made considerably easier. The consumption of detergents is reduced by approximately 95%. Perfect for application areas such as the shower, tiles, glass, sinks, bathtub, toilet.
The treatment lasts up to 2 years and the package covers an area of 10-15 sqm.
Easier bathroom cleaning
Simply rinse protected surfaces with water or wipe with a cloth! Reduces cleaning cycles.
Prevents limescale buildup
Instead of sticking to your surfaces, water, suds and dirt will just slip away!
Saves time and money
No need to scrub your bathroom with expensive/harmful chemicals. Better for the environment!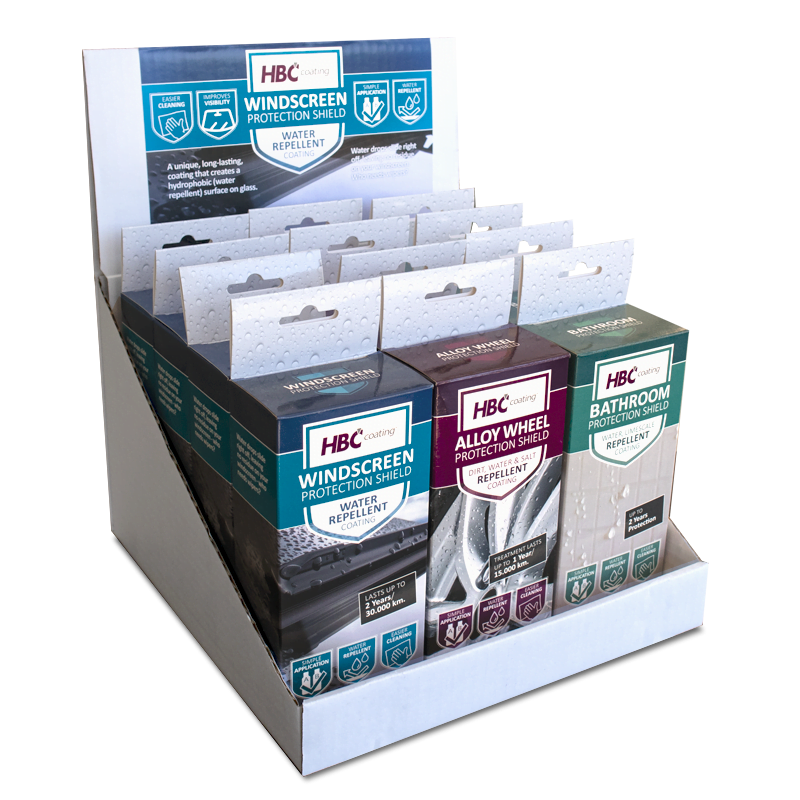 Protection Shield
Cleaner (100 ml)
Protection Shield
Coat (100 ml)
Applicator sponge,
Soft cloth, Instructions
All included do-it-yourself packages, designed to provide the very best in protection through easy steps.
POS Marketing Materials
in-store and outdoor point of sale marketing materials available for HBC Coating car care applications.